Published on 1 February 2023.  
Photo licensing agency Getty Images is suing Stability AI for copyright infringement. The news comes after three artists filed papers in the US District Court of California allege that UK company Stability AI (and Ors), which uses artificial intelligence to generate images, "downloaded or otherwise copied billions of copyrighted images without permission", to create its image generator software product Stable Diffusion.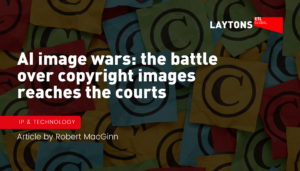 Getty Images stated:
'This week Getty Images commenced legal proceedings in the High Court of Justice in London against Stability AI claiming Stability AI infringed intellectual property rights including copyright in content owned or represented by Getty Images. It is Getty Images' position that Stability AI unlawfully copied and processed millions of images protected by copyright and the associated metadata owned or represented by Getty Images absent a license to benefit Stability AI's commercial interests and to the detriment of the content creators.
Getty Images believes artificial intelligence has the potential to stimulate creative endeavors. Accordingly, Getty Images provided licenses to leading technology innovators for purposes related to training artificial intelligence systems in a manner that respects personal and intellectual property rights. Stability AI did not seek any such license from Getty Images and instead, we believe, chose to ignore viable licensing options and long‑standing legal protections in pursuit of their stand‑alone commercial interests.'
Assuming the cases proceed, they will be closely watched by rights owners and intellectual property lawyers.  Details of the High Court claim are not yet available, but will rely on the provisions of the Copyright, Designs and Patents Act 1988 ("CDPA 1988") in relation to photographic images.
Section 1 of the CDPA 1988 defines copyright works as including artistic works while Section 4 (1) (a) includes photographs within artistic works.  Section 17 deals with infringing acts, which are defined as including copying in any form, storing by electronic means, while other sections deal with infringement by means of issuing copies to the public, renting, lending, showing and otherwise communicating copyright works to the public. Section 21 deals with "adaptations" of the copyright work.
These cases are the latest examples of how somewhat 'analogue' laws cope with next generation technology as it advances through artificial intelligence.  The courts can be expected to assess the comparative material, typically involving a side-by-side comparison of the works, and the degree to which the adapted work differ from the source material.
If you would like advice or to speak to someone regarding intellectual property matters and disputes, please contact Robert MacGinn. 
Written by Robert MacGinn,  Partner at Laytons ETL.