Published on 24 October 2023.
Last weekend, the international Libralex conference took place in Lisbon, Portugal. The exclusive network event was attended by representatives and delegates of Libralex member law firms from more than 15 countries worldwide.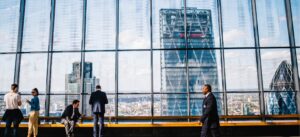 Presentations and discussions on specific current legal topics of high relevance characterised the conference programme on both Friday and Saturday. Dr. Lars Siebert of Büsing Müffelmann & Theye focused in his presentation on the commonalities of various legislative initiatives regarding digitalisation and regulation in the EU and the resulting new challenges and requirements for research and development departments, among others. Katerina Vogiatzoglou of Felios and Associates Law Firm, Gina Girak of DeForest Abogados and Pedro Ghidoni de Pina of GDP Advogados Associados followed with an examination of the topic of "Digital Nomads", considering aspects to be highlighted in terms of employment, tax, copyright and data protection law, and from the perspectives of various jurisdictions on different continents. An analysis by Libralex honorary president Bernard Cahen on the future of law, fundamental rights and democracy in the light of the several international crises was on the programme for Saturday.
In addition to professional issues, the conference agenda also included strategic ones. The Libralex working group leaders on art law, dispute resolution, energy law, digitalisation and corporate law reported on milestones achieved. The further geographical expansion of Libralex has also been discussed during the strategy meetings.
We would like to sincerely thank our Portuguese Libralex member law firm GDP Sociedade de Advogados, the host of this year's Libralex autumn conference, for creating a perfect setting for further exciting and enriching professional as well as personal exchange. We would also like to thank all speakers and participants for their valuable contributions, evaluations and outlooks. And many thanks to all those who followed this Libralex conference on LinkedIn as well.
The next international Libralex conference will take place in February 2024 in Puebla, Mexico.