Published on 1 March 2023.
On February 24 and 25, 2023, the first Libralex conference of the year 2023 took place in Luxembourg.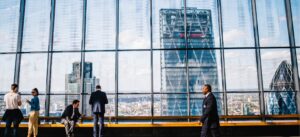 This time, the network conference focused on issues of artificial intelligence (AI) as well as on working methods, cases and decisions of the European Court of Justice.
Paddy Kelly from the English Libralex partner law firm Laytons ETL spoke to members of the Libralex Digital Law Working Group on the latest developments in the field of AI and legal liability. Paddy Kelly addressed, among other things, new product liability and product safety regulations relevant in connection with Artificial Intelligence, their limits and necessary adjustments.
As a special guest Libralex welcomed former ECJ Judge Ian Forrester, who gave deep insights into the working methods of an international court using the example of the European Court of Justice. The Danish lawyer René Offersen followed with a report on the case of a national telecommunications operator before the Court of Justice of the European Union and Libralex member Dr. Karlheinz Klema, with Libralex colleague Dr. Ulrich Münzer, focused on an ECJ judgement on hourly fees of lawyers and the question of how far they are compatible with applicable law.
On the second day, the conference agenda was mainly focusing on the further expansion of Libralex's global activities in its key areas of International Trade, Investments and Dispute Resolution.
We would like to thank the Luxembourg Libralex partner law firm Moyse & Associates for the excellent organization of the conference as well as all speakers and participants for another successful network meeting with exclusive insights, lectures and presentations, precious discussions and exciting ideas for further joint initiatives! The next Libralex meeting will take place in Amsterdam in June.